Bioinformatics analysis of SARS-CoV-2 with QIAGEN Digital Insights
COVID-19 emergency response licenses for QIAGEN CLC Genomics ProSuite and QIAGEN Ingenuity Pathway Analysis
QIAGEN CLC Genomics Workbench software is used by hundreds of microbiology and virology labs around the world for basic research and infectious disease epidemiology. QIAGEN CLC Genomics has also been critical for many labs on the front lines of the COVID-19 pandemic involved in sequencing the SARS-CoV-2 virus.
QIAGEN Ingenuity Pathway Analysis (IPA) is used by thousands of researchers worldwide and cited extensively in studies of the host response to viruses.
To support these efforts, QIAGEN Digital Insights is offering free 'COVID-19 emergency response licenses' for QIAGEN CLC Genomics ProSuite and a free temporary license of QIAGEN IPA to qualifying laboratories globally involved in the COVID-19 research and pandemic response. The COVID-19 emergency response licenses will expire on June 15, 2020 – but may be extended at QIAGEN's discretion, to continue our support for the global response. As an additional resource, QIAGEN Digital Insights will be hosting training webinars and tutorials specifically to address the bioinformatics needs of the community.
If you are actively involved in SARS-CoV-2 sequencing and are a clinical microbiology or public health laboratory, then register now to receive your free temporary license and sign up to be notified of our upcoming webinars on COVID-19, as well as additional materials we will be releasing to support your work.
Coronavirus Network Explorer
Check out our Coronavirus Network Explorer, available at no cost. Our data scientists have expanded upon recent peer-reviewed research to generate relevant SARS-CoV-2 protein networks using the QIAGEN Knowledge Base as well as artificial intelligence. This freely available tool helps you visualize how SARS-CoV-2 proteins interact with human host proteins to disable protective responses and pathways, and explore hypotheses around how to fight coronavirus. The Coronavirus Network Explorer supports and accelerates your research by helping you gain a deeper understanding of how SARS-CoV-2 affects the host and behaves biologically.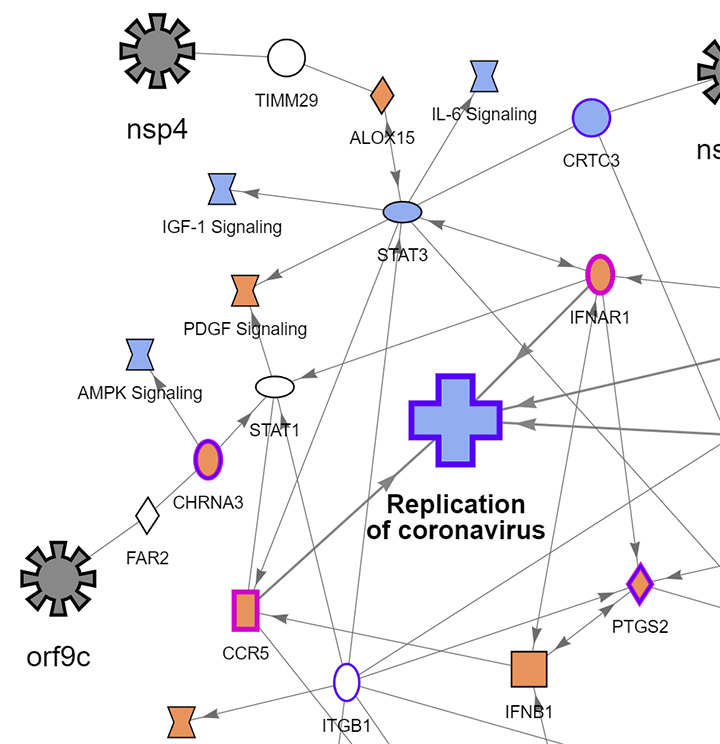 QIAGEN CLC Genomics resources for SARS-CoV-2
QIAGEN CLC Genomics resources for microbial and viral genomics
Webinars
Blogs
Publications using QIAGEN IPA and/or QIAGEN CLC Genomics to study COVID-19
Other resources/external tools